I hadn't been to Italy in a while. My feet were itching to travel. We found a very cheap tickets from Turkish Airlines' "so-cheap-that-they-beat-up-whoever-misses-it" sales campaign and planned our trip in 1 week to visit the small Italian town of Bari, which was unknown to us. We first learned that the name Bari is pronounced the same way we'd say "gidelim bari" in Turkish, which is with a prolonged letter "A", in addition to our knowledge that the small town is located in the south, at the heel of the boot that is Italy. Even though it sounds odd to use in a sentence, the 3 of us said "gidelim Baari", which translates to "we might as well go"…
Anyone who follows my blog knows that I often write about my travels to watch matches of Galatasaray. Although I say I write about my match travels, it has already turned into a food blog… Anyways…
As I often mention, many stately and serious businessmen and self-proclaimed macho guys return to their adolescent selves from their high school years during the matches, or sometimes even during the trip. As someone who always carries herself seriously (!), I always found this phenomenon very strange and sought to find it's reasons. I believe I found some of the reasons during my trip to Bari.
The passion to support a team or going to see their matches usually starts during elementary school years. When people go to watch a match, especially when they do so with a group of childhood friends, they feel as if they are back to those years of childhood or adolescence. The problem with the men in my country is that they have likely spent those years chasing after girls and being rejected, brawling in their neighborhoods, and just yelling and swearing. Therefore during matches, home or away, and trips to watch those matches,, they let themselves be taken over by these primeval instincts and turn into their 13-year-old adolescent selves, which sometimes makes us laugh and sometimes just enrages us. To connect this concept with Bari, I went there with my friends from elementary school and I completely turned into my self from those years, which resulted in one of the most enjoyable travels I ever had. Adolescence forever! Of course the fact that my friends also happen to be supporters of Galatasaray is a complete coincidence. 🙂
Despite shortening our first day in Bari, our bargain-priced mid day flight resulted in a comfortable 1.5-hour trip and an energetic arrival to the small Italian town. The trip from the airport to downtown Bari cost 23 Euros and took 20 minutes. Sharing it with 3 or 4 other people made for a reasonably priced taxi ride. For a trip as short as ours, time is indeed money, and we thought it was worth to sacrifice of 23/3 Euros, right?
The town of Bari turned out to be bigger and more beautiful than we anticipated. Our accommodation, Boston Hotel (http://www.bostonhotelbari.com/ ) was located in downtown and was about 10 minutes walking distance to everywhere. The area of the Old City (Centro Historico) that had narrow streets and old stone houses was our favorite part of Bari, without a doubt.
The Old City offered a portrait of laundry was hanging from old houses and window to window conversations that is very familiar to us Turks…
The streets had such a clean and wonderful smell that the girls kept searching for the same laundry detergent at local supermarkets. 🙂
In Bari, there is a surprise at every corner. Like this house with its beautifully lighted courtyard. I have to say one thing; of course there are places recommended for sightseeing in Bari, but don't get restricted by any suggestions. Just wander around on the streets of the Old City and go to the places you like and eat wherever you please. We only had 1 recommendation for a restaurant, which I will review shortly, and we never regretted anything we ate. Those who don't have much travel experience can of course take my recommendations here into consideration, but I'd say let loose in Bari. Just relax and enjoy it.
Bari resembles the Turkish city of Izmir with its long and clean coastline and its city planning. Therefore it is recommended to visit Bari in summer. But I'd say that our trip was in one of the best seasons to see Bari. It was very enjoyable to leave the cold Istanbul weather to arrive to 15 degrees centigrade and wander the streets devoid of tourists as if we are locals. There were decorative lights everywhere as it was Christmas season. Street musicians busking at every corner and vibrant streets were an ideal environment for me, as dancing is in my genes.
If I get a "BRAVO!!", Italians also get one for being able to adapt their pleasures into their holidays and beliefs and for espousing their national values… Take a look at this convoy hundreds of  Santas riding motorcycles!
Having mentioned Santa Clause, who would enter through the door instead of the chimney if he was half way decent and who no one is sure to claim as their own, is housed by the Basilica di San Nicola. Even though he lived in Demre region. Antalya, Turkey in the 4th century, Saint Nicola's bones have been brought to Bari in 1087 which became a religious hot spot for Orthodox and Catholic believers.
We went downstairs in the Basilica where the bones are exhibited, but upon hearing the wedding ceremony that was about the begin, we quickly went upstairs and failed to take any photos of the famous bones.
We wanted to wait until the end, but because the ceremony took too long we ended up leaving the church before it ended. As it got dark and we got hungry, it was time to have dinner. We went to La Locanda di Federico (www.lalocandadifederico.com) right next to the Column of Justice (Colonna della Giustizia). Every region in Italy has their own pasta, cheese and pizza that is unique to that region. The specialty pasta of this region is called Orecchiette, which is thick shaped like an oyster shell. When undercooked, it can be unsuitable for the Turkish palate. But when cooked well and garnished with see food, it becomes finger-licking good as we say in Turkish. As I always say; if your palate is a strictly Turkish one, you will want you pastas to be well cooked in Italy.
Because we were looking to sample a variety of dishes, we ordered one of everything and shared. This way we tried out more dishes.
Bari was the cheapest Italian city we've ever been to. We paid about a hundred Euros for a long dinner with wine for 3 people, and you can even save more by choosing a more affordable place to eat. You can see how affordable Bari is from the prices of beer and cocktails in the photo below.
Even though we weren't very tired on our first night, we went right back to our hotel to sleep after dinner to have more energy for the next day.
The next day we were ready and excited for our trip to Alberobello, which is 1.5 hours away with train. Although we were advised to rent a car and drive to Alberobello, which would last 45mins to 1 hour, we very much enjoyed the scenic train ride.
Alberobello is known for it's unusual architecture. The characteristic houses with domes are called "trullo". If any of you have been to Urfa – Harran, they're very similar to the houses there. The only difference is the ones in Urfa – Harran are made from adobes, and the ones in Alberobello are made of stone. I always say; the fact that almost nobody knows about a city of prophets like Urfa's Harran, but thousands of tourists visiting even a tiny place like Alberobello in Italy is because of the difference in preserving and promoting…
I have been to Harran two times; first time was years ago, the last one was two months ago.  I've already shared Harran's photos in "Göbeklitepe" post. You can see one of them belowed.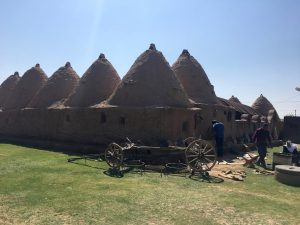 Let me share this photo of colorful and warm people from first visit; maybe it'll be reminder to those who forget that such people live there as well.
Alberobello is a place you simply must see when you visit the Puglia region. Even though it was very cloudy when we visited, the clouds weren't able to overshadow its fairytale beauty. Speaking of fairytale beauty… 😉
The small trullo houses were often converted into small souvenir shops,
Or small art galleries. We went in, but we only took photos from the outside to not offend the owners. I believe it's important to pay attention to such things.
For some reason one of the waiters thought that I'm a celebrity and wanted to take a photo with me. Unable to convince him that I'm not famous, I unwillingly (!) posed with him for a photo.
At least I was able to ditch the paparazzi celebrity-style and live up to my fame in Italy.
When we returned to Bari, we ate our dinner at a restaurant named La Muraya (www.ristorantelamuraya.it ), which we found while wandering around in the streets. Because of my rusty Italian, ended up saying "four times" instead of just "four" in our order and ended up with 12 shrimps. They took back the extras without making an issue of it at all. I wish we could have them right now… 😛
Don't let its appearance fool you; this risotto was delicious.
Because they are by the sea, they make almost all dishes with seafood, like this spaghetti below, and it's so great that they're doing that.
We tasted all of their desert dishes, but none of them were as sweet as we were… :))
We wanted to continue our delightful conversation, but the weather, which resembled summertime when we arrived at the restaurant, was freezing cold and raining cats and dogs by the time we left. We weren't even able to cross the street, let alone walk to the bar at the end of the street. So we ran to our hotel, ending up wet from head to toe. 🙁 We weren't able to stay out, but we had such a great time that we were still happy, despite cutting our evening short.
The next day, which was the day we'd travel back, we went sightseeing around Bari a bit more. We witnessed how valued children are in this city and felt very happy for Italian children, while feeling sad about the children of our own nation.
They have put up a display of children's Christmas cards. Oh children; how colorful, how beautiful, how full of joy they always are, everywhere…
And finally we had the last meal of our trip at Dall'Oste De Convivium (www.foodconvivium.it ), which once again we  found while walking around. I guess I don't have to say it again, we ended up eating amazing food. But this time we weren't able to take photos because we had very limited time.
Here's our curious and anxious faces on our way there,
Which then became happy, full and smiling.
After I returned, it was a delight to consume all the formaggi, bresaola and wine I brought back. Especially the love affair I had with a cheese named "Burrato" in every meal during our trip to Bari, will forever live in my heart. 
Which then became happy, full and smiling.
After I returned, it was a delight to consume all the formaggi, bresaola and wine I brought back. Especially the love affair I had with a cheese named "Burrato" in every meal during our trip to Bari, will forever live in my heart.